Rise Up!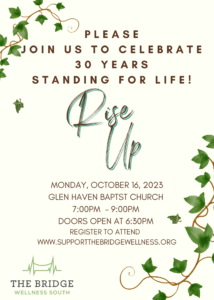 Join us to celebrate 30 years of standing for life!  Rise UP!
Our 30th annual banquet registration is OPEN.  Register HERE
We are so excited to have David Scotton as our guest speaker at our "Rise Up," a banquet to benefit The Bridge Wellness South.  David Scotton is a practicing attorney and adoption advocate who was a few seconds away from not having life. David is also the subject of the award-winning adoption documentary; I lived on Parker Avenue which was the inspiration for the recent movie "LifeMark" See his bio below. 
We are expecting another great night at Glen Haven Baptist Church in McDonough, GA. With the return of Morelle McCrary from Ramtech as our em·cee this year and Special Music by local artist James Shealy and his wife Julia. The doors open for the event at 6:30 PM and dinner starts at 7:00 PM.  I know you all are going to love Dinner catered by Quinn Catering.  So, mark your calendars and register to attend (even invite a friend)!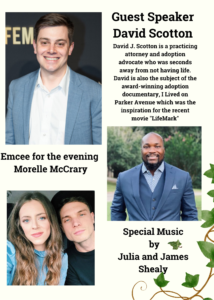 Whether or not you have attended one of our events before you don't want to miss this one!   Fun, surprises, great food, wonderful fellowship, and great life-affirming information about The Bridge Wellness South. You don't want to miss a great night and this God-filled inspirational message from David Scotton
The food will be provided by Quinn's Catering.